Machine needles need as much care and attention as a hand sewing needle and yes it is probably true – we change the machine needle when the needle breaks.
Machine needles need changing regularly – imagine the tension and the stress on the needle as it is pushed though the fabric into the machine and out again and at speed.
Machine needles will blunt and really it is the same scenario as the needles used in hand stitching, a blunt needle will cause uneven stitching and most likely slow down the machine and may cause the stitches to pucker – and this is not always due to the tension.
We recommend that you change your machine needle every 10 hours and if possible earlier.
Change your machine needles regularly and have a happy machine.
STRUGGLING TO SEW A HEAVY DUTY FABRIC & THE NEEDLE KEEPS BREAKING!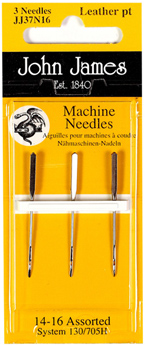 Why not try a LEATHER Machine Needle – this needle is designed to pierce leather with ease. It has a triangular point which pierces the leather but without splitting the leather. It may be named and designed to use on leather but why not try it if stitching with Denim or using stitching with a stiffener such as Buckram used in creating curtain accessories such as pelmets and tie-backs etc.